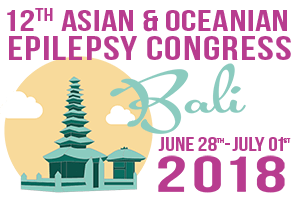 12th Asian and Oceanian Epilepsy Congress (AOEC)
Bali, Indonesia
28 June - 1 July 2018
Dear Friends and Colleagues,
On behalf of the Scientific and Organising Committee, it is with great pleasure and pride that we announce the 12th Asian & Oceanian Epilepsy Congress (AOEC) will be taking place in Bali, Indonesia, from the 28th June to the 1st July, 2018. The congress is organised jointly by the International League Against Epilepsy (ILAE) and the International Bureau for Epilepsy (IBE)
IBE Epilepsy & Society Symposium: Sunday July 1, 2018
An exciting programme that will be of great interest to both individuals living with epilepsy and for staff from community organizations supporting people living with epilepsy is scheduled for Sunday 1st July. This symposium has been developed by local and regional committees of the International Bureau for Epilepsy (IBE). The programme will cover topics of practical interest to people with epilepsy and is complimented by extensive networking opportunities to meet friends old and new. Come back soon for further details on this symposium
Subscribe to the ILAE Newsletter
To subscribe, please click on the button below.