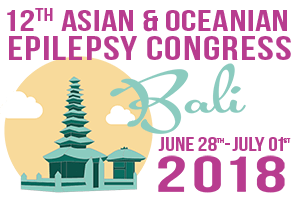 12th Asian and Oceanian Epilepsy Congress (AOEC)
Bali, Indonesia
28 June - 1 July 2018
Have you submitted an Abstract yet?
The 12th AOEC Abstract Submission System is open and you can submit your abstract until Friday 23rd February 2018. Please visit the 12th Asian and Oceanian Epilepsy Congress website to see categories, submission, and content rules.
Speakers and their presentation titles for the main, post main, parallel and practical sessions can be found under the Scientific Programme section of the congress website. Details on the ASEPA sessions are coming soon.
IBE Epilepsy & Society Symposium: Sunday July 1, 2018
An exciting programme that will be of great interest to both individuals living with epilepsy and for staff from community organizations supporting people living with epilepsy is scheduled for Sunday 1st July. This symposium has been developed by local and regional committees of the International Bureau for Epilepsy (IBE). The programme will cover topics of practical interest to people with epilepsy and is complimented by extensive networking opportunities to meet friends old and new. Come back soon for further details on this symposium.
Subscribe to the ILAE Newsletter
To subscribe, please provide your email address.