Other Epilepsy Journals
Reduced subscription rates are available to members of the ILAE chapters. Discounts range from 50-75%, depending on the publication. Select "Subscribe" for the desired publication to see specific price information. All journals are provided on a calendar year subscription basis, starting January of each year.
To order a subscription: Click on the Subscribe link and log in using your assigned login name and password. If you don't remember your log in information, contact subscriptions@ilae.org. If you don't have a login and password, use the printable form and follow the instructions to send your payment.
Epilepsy Research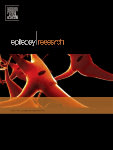 Epilepsy Research seeks high quality articles in all aspects of both basic and clinical epilepsy research, from biophysics to epidemiology. There is a special emphasis on translational research that ultimately relates to epilepsy as a human condition. 15 issues.
Subscription prices
Online Version Only: $101.00
Paper and online; $200.00
Subscribe here | Epilepsy Research website
Seizure
Seizure – European Journal of Epilepsy focuses on the publication of high quality research relevant to clinicians - not only about epilepsy in children and adults but also about comorbidities, surgical, drug, and non-drug treatments, and psychogenic non-epileptic attacks.
Subscription prices
Online Version Only: $84.00
Paper and online; $194.00
Subscribe to the ILAE Newsletter
To subscribe, please click on the button below.
Please send me information about ILAE activities and other
information of interest to the epilepsy community