Epigraph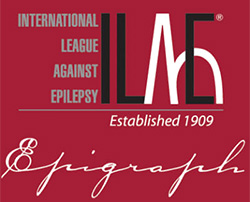 Epigraph is the official newsletter of the International League Against Epilepsy's membership. Complimentary to all members. No subscription required. Please send articles and news to Epigraph@ilae.org
Sign up to receive the Epigraph newsletter.
Latest from Epigraph
ILAE sat down with Martin Brodie (IBE President 2017-2021) and Francesca Sofia (IBE President 2021-2025) in July 2021 to talk about their paths to the presidency and their hopes and plans for the future of IBE. Watch the interview
In July 2021, the ILAE communications officer sat down with outgoing President Samuel Wiebe and President-Elect J. Helen Cross. Dr. Wiebe faced the effects of a pandemic for the last 18 months of his presidency, and Dr. Cross is taking office as the first female president of ILAE. Watch the interview
Lire en Français | Leer en Español
Two meetings brought together more than 150 participants to discuss potential new names for PNES, and how a name can affect treatment options, public acceptance, professional ownership, stigma, and reimbursement.
Lire en Français |  Leer en Español
Treating psychogenic non-epileptic seizures (PNES) requires a multidisciplinary approach, but often, people with PNES have trouble finding health care providers willing to help. The condition also carries stigma, both from health professionals and the public. Could part of the solution be a better name?
Issues
Subscribe to the ILAE Newsletter
To subscribe, please click on the button below.
Please send me information about ILAE activities and other
information of interest to the epilepsy community