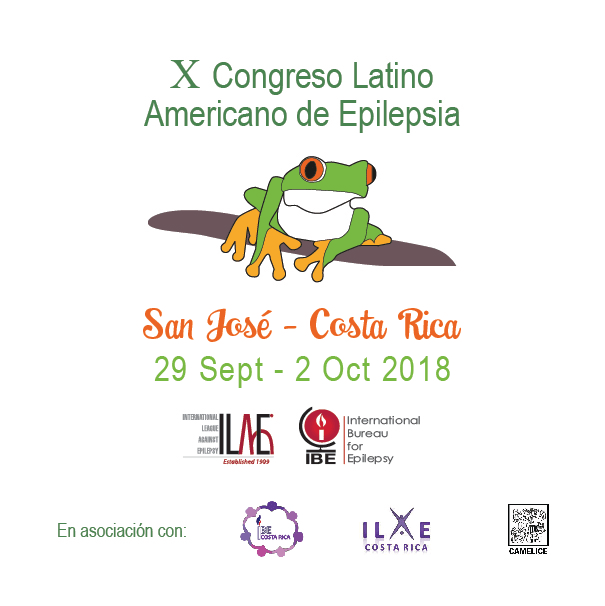 10th Latin American Congress on Epilepsy
(LACE)
San José, Costa Rica
29 September - 2 October 2018
The 10th Latin American Congress on Epilepsy will be held under the auspices of ILAE and IBE in association with the IBE Chapter in Costa Rica,  the  Costa Rican Chapter of the International League Against Epilepsy and The Mexican League Against Epilepsy.
The aim of this conference is to stimulate research in the field of epilepsy and improve patient care throughout Latin America.
The scientific program will include plenary sessions, discussion sessions, educational sessions and workshops. Poster sessions and platform sessions will be scheduled to facilitate communication of new information, while Industry is sponsoring symposia, which will play an important role in complementing the main scientific sessions.
************
El X Congreso Latinoamericano de epilepsia, se celebrará bajo los auspicios de ILAE e IBE en asociación con el Capítulo IBE en Costa Rica, el Capitulo Costarricense de la Liga Internacional contra la Epilepsia y el la Liga Mexicana contra la epilepsia.
El objetivo de este congreso es estimular la investigación en el campo de la epilepsia y mejorar el cuidado del paciente alrededor de Latinoamérica.
El programa científico incluirá sesiones plenarias, sesiones de discusión, sesiones educacionales y talleres. Las sesiones de posters y las sesiones de plataforma se agendarán para facilitar la comunicación de nueva información, mientras la Industria patrocinará simposios, los cuales jugarán un importante rol en la complementación de las principales sesiones científicas.
Subscribe to the ILAE Newsletter
To subscribe, please provide your email address.