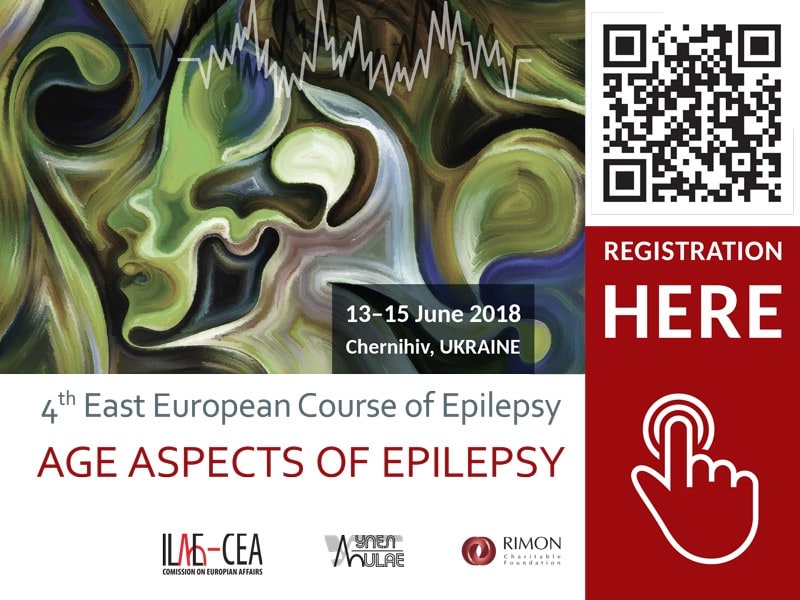 4th East European Course on Epilepsy: Age Aspects of Epilepsy
Country Club ShishkiNN in Shishkinn, Chernihiv Region, Ukraine
13 - 15 June 2018
http://ulae.org.ua/eece/2018/online-registratio.html
Вельмишановні колеги!
Ще раз дякую вам усім за високу довіру, що ви виказали мені, обравши мене президентом Української протиепілептичної ліги. Починаючи свою роботу я сподіваюся на підтримку всіх членів УПЕЛ – дійсних та майбутьніх, а також наших партнерів.
Для більш плідної та оперативної взаємодії з кожним з вас ми з радістю презентуємо новий сайт УПЕЛ, який дасть змогу своєчасно отримувати інформацію про всі наші спільні заходи, без проблем реєструватися на всі конференції, симпозіуми, семінари, що будуть проводитися УПЕЛ.
Наш з вами новий сайт буде мате тісну співпрацю з сайтом, періодичними виданнями та іншими інформаційними ресурсами Всесвітньої протиепілептичної ліги ILAE International League Against Epileps та Комісії у Європейських справах Всесвітньої протиепілептичної ліги ILAE-CEA, що дасть можливість отримувати своєчасну світову інформацію та новини, як кажуть з перших вуст.
По можливості ми будемо висвітлювати всі аспекти життя УПЕЛ як в минулому, на теперішній час та наші плани на майбутнє.
Двомовність сайту (українська та англійська) дасть змогу ознайомити з нашою діяльністю закордонних колег, підтримувати тісний зв'язок із провідними світовими експертами та залучити їх до майбутньої співпраці, яка буде нам на користь та є запорукою нашого спільного розвитку.
Ми плануємо велику сторінку про історію УПЕЛ, тому, як що у вас є цікаві матеріали, надсилайте, будемо всі разом формувати сторінки нашої історії.
Після ознайомлення з початковими кроками нашого нового сайту прошу присилати всі ваші пропозиції, матеріали зауваження тощо.
Завжди відкритий до плідної співпраці.
Щиро ваш, президент УПЕЛ,
Андрій Дубенко
Subscribe to the ILAE Newsletter
To subscribe, please provide your email address.