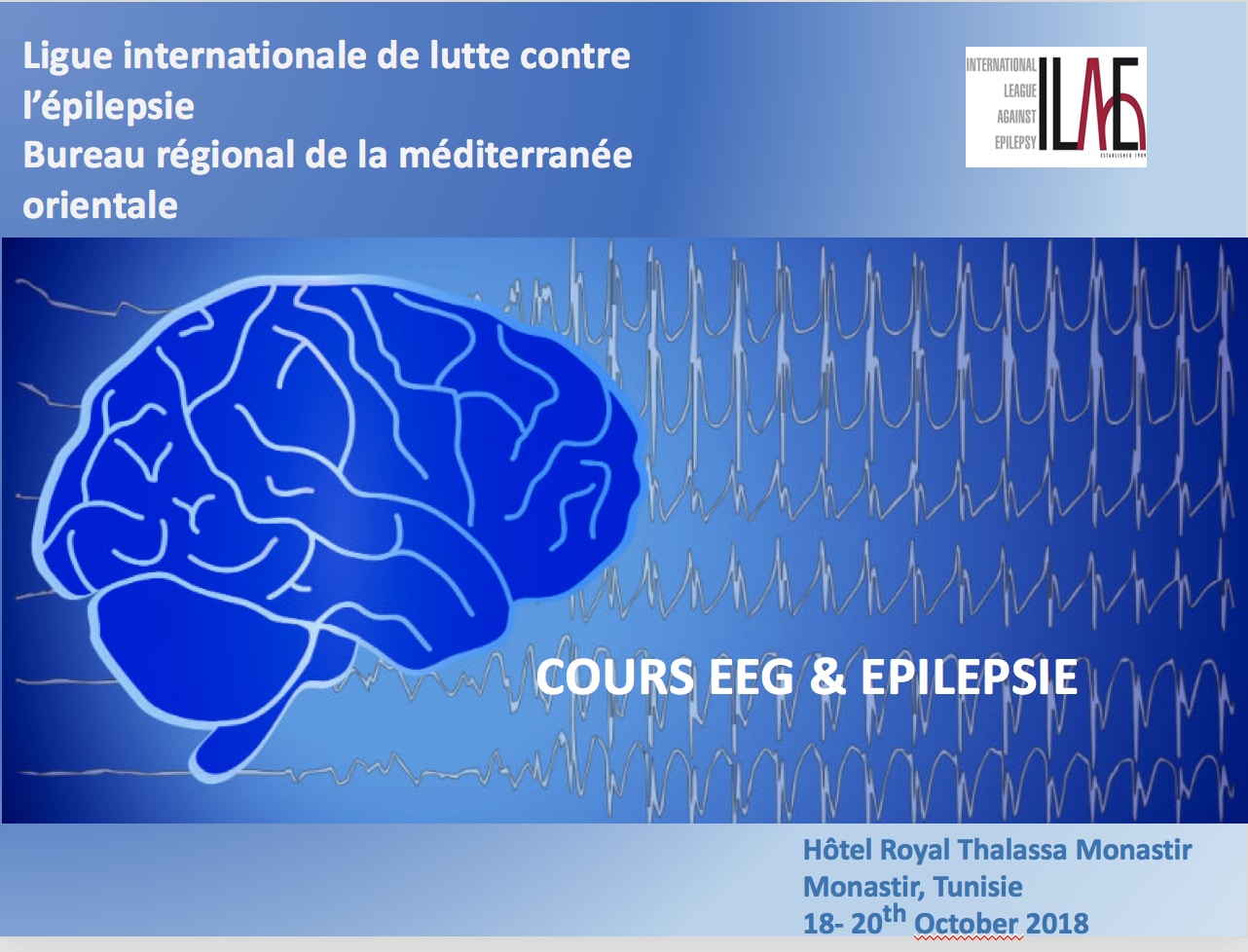 Cours d'EEG et d'épilepsie
Hôtel Royal Thalassa Monastir in Monastir, Tunisie
18 - 20 October 2018
Registration deadline extended to 10 September 2018
C'est avec grand plaisir que nous vous invitons à participer au cours francophone d'EEG et d'épilepsie organisé par le bureau régional de la méditerranée orientale de la ligue internationale de lutte contre l'épilepsie (LICE- Méditerranée orientale) qui se tiendra en collaboration avec la 7ème journée de Neurologie de Monastir (Tunisie).
It is with great pleasure that we invite you to participate in the International EEG and Epilepsy Course organized by the Eastern Mediterranean Region of the International League Against Epilepsy (ILAE-EMR) to be held in collaboration with the 7th day of Neurology of Monastir (Tunisia).
EEG et d'epilepsie Course Information (French) | EEG and Epilepsy Course Information (English)
Objectifs du cours
Dispenser une formation de pointe sur la pratique et l'interprétation de l'EEG de l'enfant et de l'adulte et sur la prise en charge diagnostique et thérapeutique des épilepsies.
Objective: Provide advanced training on the practice and interpretation of child and adult EEG and the diagnostic and therapeutic management of epilepsies.
Présentation générale
Ce cours comprendra des conférences d'enseignement sur l'EEG et la prise en charge des épilepsies a travers les âges et des sessions pratiques sous formes d'atelier. Ce cours durera deux jours et demi et est destiné aux médecins et techniciens d'EEG qui veulent renforcer leur formation en épileptologie.
This course will include teaching lectures on EEG and epilepsy management through the ages and hands-on sessions in workshop format. This course will last two and a half days and is intended for EEG doctors and technicians who want to strengthen their training in epileptology.
Langue du cours
Français. Pas de possibilité de traduction.
French. No possibility of translation
Subscribe to the ILAE Newsletter
To subscribe, please click on the button below.