Epigraph Vol. 8 Issue 1, 2006 Web
ILAE Meetings Held in Washington, DC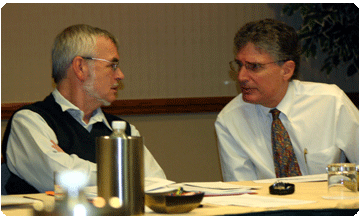 The ILAE Executive Committee held their first in-person meeting since Paris to discuss League issues. With the full committee on hand, the committee discussed issues regarding chapters and commissions, along with making plans for 2006. Along with the Executive Committee, the Sub-commission on Pediatric Epilepsy Surgery, Commission on Neurobiology, Commission on Epilepsy Care, Web site Task Force, Education Committee, Commission on Therapeutic Strategies and Sub-commission on Education also held meetings. The next meeting of the Executive Committee will take place in Brussels on 17 March 2006.
Subscribe to the ILAE Newsletter
To subscribe, please click on the button below.